The only Peruvian workshop offering service cutting for international clients
Our clients prefer cutting their stones with us because:
We deliver high quality products.
We optimize the cutting process in cooperation with our clients in order to get the most out of their stone. Typically we are first cutting the big products. Than use the cut offs for smaller products and the even smaller cut offs from this step for even smaller products like cabuchons etc.
We try to give the best customer service possible by being in regular contact with our clients and keeping them updated on the progress of their production and by providing advice on how to improve their products.
We are happy to cut the customized products and shapes our customers require. Some of our customers send us drawings or even 3D-prints of the products they want us to cut. This helps us to produce exactly what they want.
Please feel free to contact us and inquire about our cutting services, import and export procedures as well as shipping rates. We are happy to provide you with all required information.
Our Services
Gemrock Peru offers a number of services to commercial clients: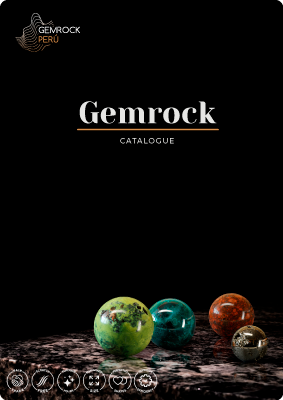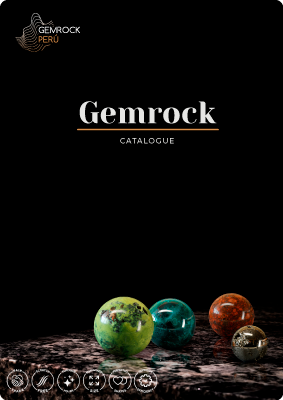 If you are owner of larger amounts of rough stone and you are looking for a workshop to cut your rough into a series of products we are the right place to ask for a quote. We are standing out of the service cutting crow from other countries with cheap labor costs by producing superior quality for a reasonable price, by optimizing the quantity of products being cut from your rough and by providing our customers with close communication on the advance of their order as well as advice concerning the cutting of their rough.
Designer cabs & Custom pieces
We are specialized on working with our clients to cut unique pieces from unique stones and slabs. Creating such a cab is only possible in very close cooperation and with permanent communication with the jewelry designer or client. We are putting in a lot of effort to provide our clients with the best possible guidance on how we cut their stone and by implementing the clients' wishes.
In case our clients wish to get their products cut by us but don't have the rough we are willing to source any mineral on a national level for our clients.
Is there anything you wish to know about:
Shipping cost and logistics, Payment options, Product quality, Packaging, Shipping damage, Refunds, etc. ?