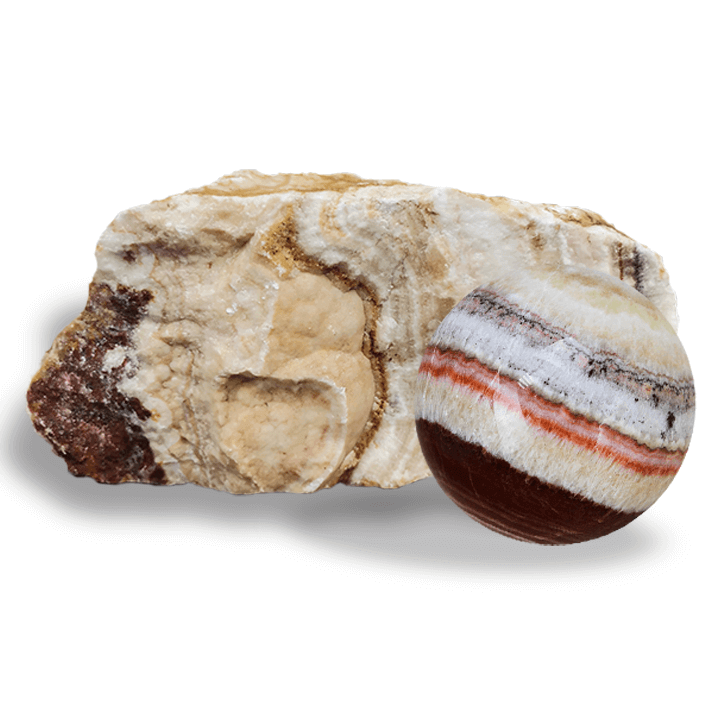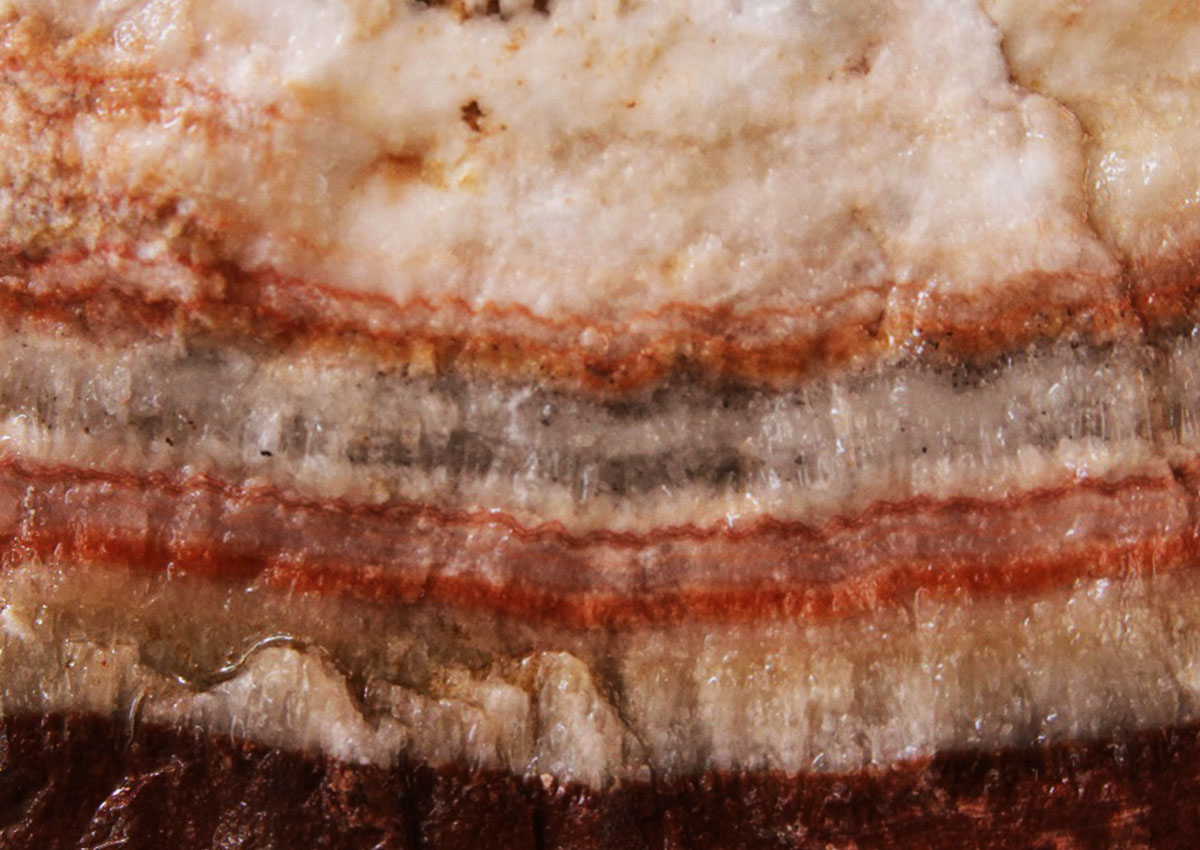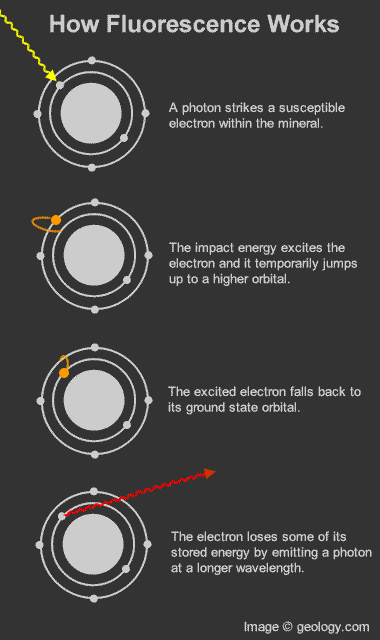 There are many fluorescent minerals. Phosphorescence however, is very rare. Nowadays it is hard to find a new and unique mineral that has not been discovered by somebody else before. When we do so, it definitely is newsworthy. Pink Peruvian Aragonite is a stone that should be in any crystal shops product collection. 
What is fluorescence and how does it differ from
phosphorescence?
Fluorescence
Fluorescence is the emission of light by a mineral that has absorbed light or other electromagnetic radiation. The emitted light has a longer wavelength, and therefore lower energy, than the absorbed radiation. The most striking example of fluorescence occurs when the absorbed radiation is in the ultraviolet region of the spectrum, and thus invisible to the human eye, while the emitted light is in the visible region, which gives the fluorescent substance a distinct color that can be seen only when exposed to UV light.
The stimulating light excites an electron, raising energy to an unstable level. This instability is unfavorable, so the energized electron is returned to a stable state almost as immediately as it becomes unstable. This return to stability corresponds with the release of excess energy in the form of fluorescence light. This emission of light is only observable when the stimulant light is still providing light to the mineral and is typically yellow, pink, orange, red, green, or purple.
Phosphorescence
Fluorescent materials cease to glow nearly immediately when the radiation source stops, unlike phosphorescent materials, which continue to emit light for some time after. In fluorescence, electrons excited by incoming photons jump up to a higher energy level and remain there for a tiny fraction of a second before falling back to the ground state and emitting fluorescent light. In phosphorescence, the electrons remain in the excited state orbital for a greater amount of time before falling. Minerals with fluorescence stop glowing when the light source is turned off. Minerals with phosphorescence can glow for a brief time after the light source is turned off.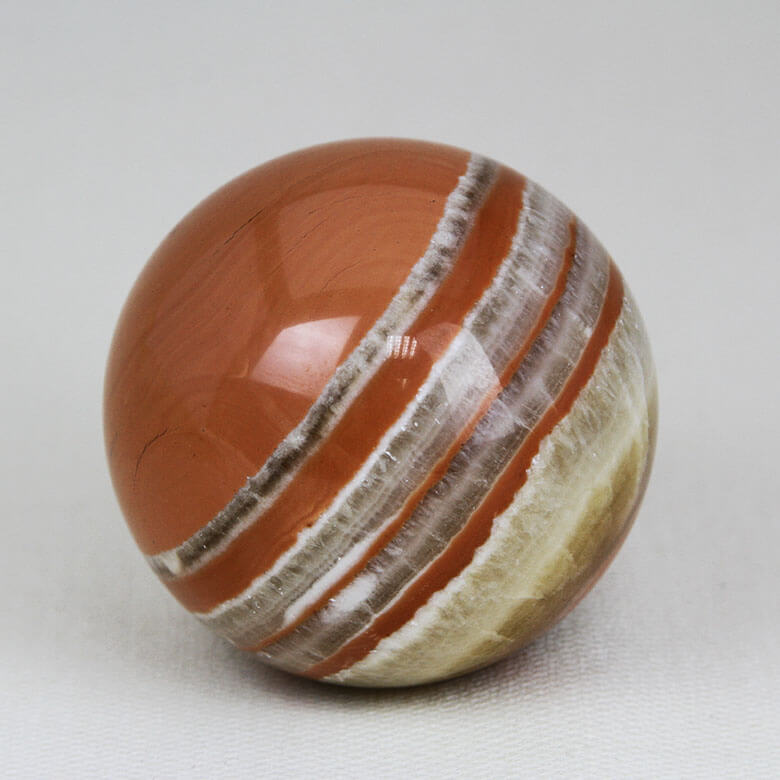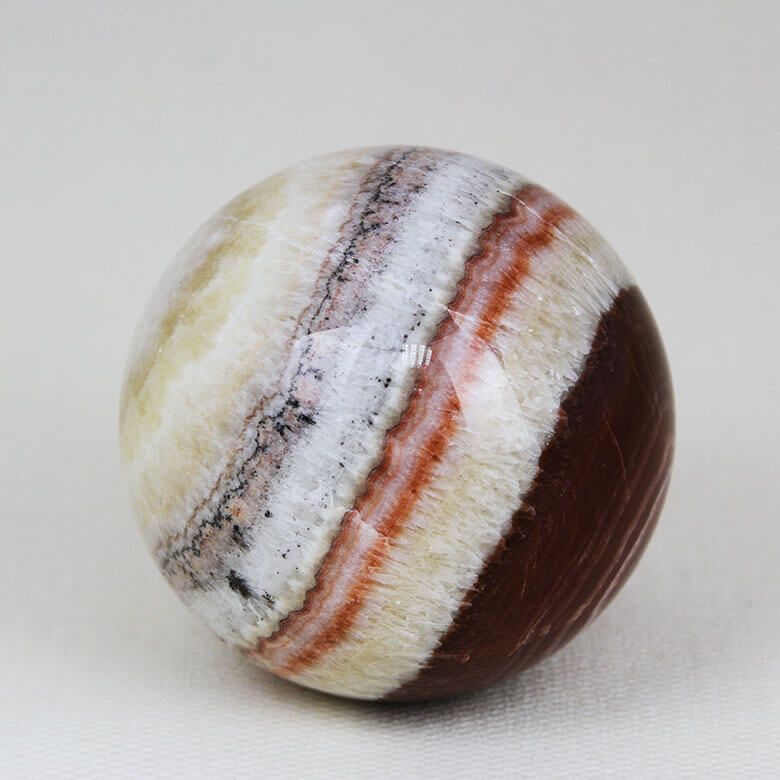 To be honest right from the start: Peruvian Pink Aragonite is not really pink. It actually is a layered material that shows bright orange layers, brownish, white, yellowish, blueish and dark red layers.
On a microscopial level the structure of the whitish, yellowish and brownish layers is fibrous, which indicates that these layers are related to Aragonite. Its those layers that show the fluorescent/phosphorescent behaviour.
While the orange and dark red layers do make this material look very beautiful in daylight, they have a more massive non-fibrous structure and show no fluorescence.
Another beautiful fact about this material is that it takes on a nearly glass-like perfect top quality polish. It really becomes a mirror and even on the pictures you can see the clearcut reflections of the lights, the furniture and the camera.
When exposed under UV-light the orange and red layers become black and the fibrous layers light up in bright white.
But the most amazing effect happens when "charging up" the stone for a few seconds with the energy from the UV-lamp and then (in a dark room) switching off the UV-Light.
Inmediately the stone lights up in phosphorescent green. In the very first moment of this proces one can perceive a real effect of the stone switching on the light – the green phosphorescent line displays a flash of light. Then the glowing green becomes weaker and weaker. In very pure material this process of fading out can take seconds.
If you were ever wondering about energy of crystals?
Here is living proof: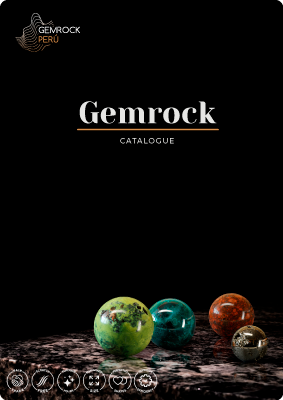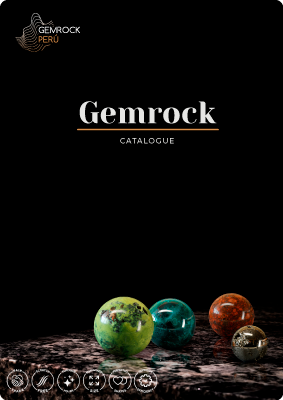 Need a hand? Let us know how we can help
Tell us more about your company an we'll get in touch
Do you need reliable high quality cutting services for a reasonable price?  Are you looking for a service provider that is willing to develop new products according to your requirements? Would you like to get expert advice in order to improve your product? Do you wish for someone to optimize the process and get the most out of your rough? Just talk to us.