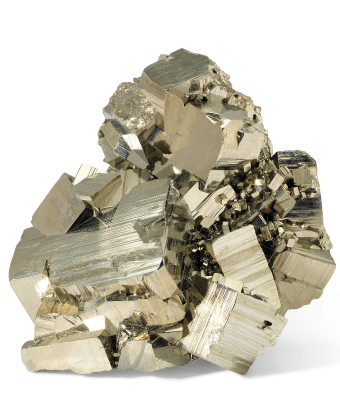 The only authorized seller of Huanzala Pyrite from Peru
Since January 2020 Gemrock Peru S.A.C. has the permanent exclusive rights for the extraction and global sale of Pyrite from the famous Huanzala mine in the Huallanca District, Áncash, Peru.
Huanzala is a lead-zinc mine with a 1,200 tons/day capacity, operated by Cia. Minera Santa Luisa and owned by Mitsui Mining & Smelting Co. (Japan). The mine is famous all around the world for excellent pyrite and fluorite specimens. According to well-known mineral specimen importer Rock Currier, the Huanzala mine probably holds the world record with regard to total tonnage of mineral specimens produced by a single mine. According to Mardani Fine Minerals "Huanzala has been praised as one of the greatest pyrite localities of all time."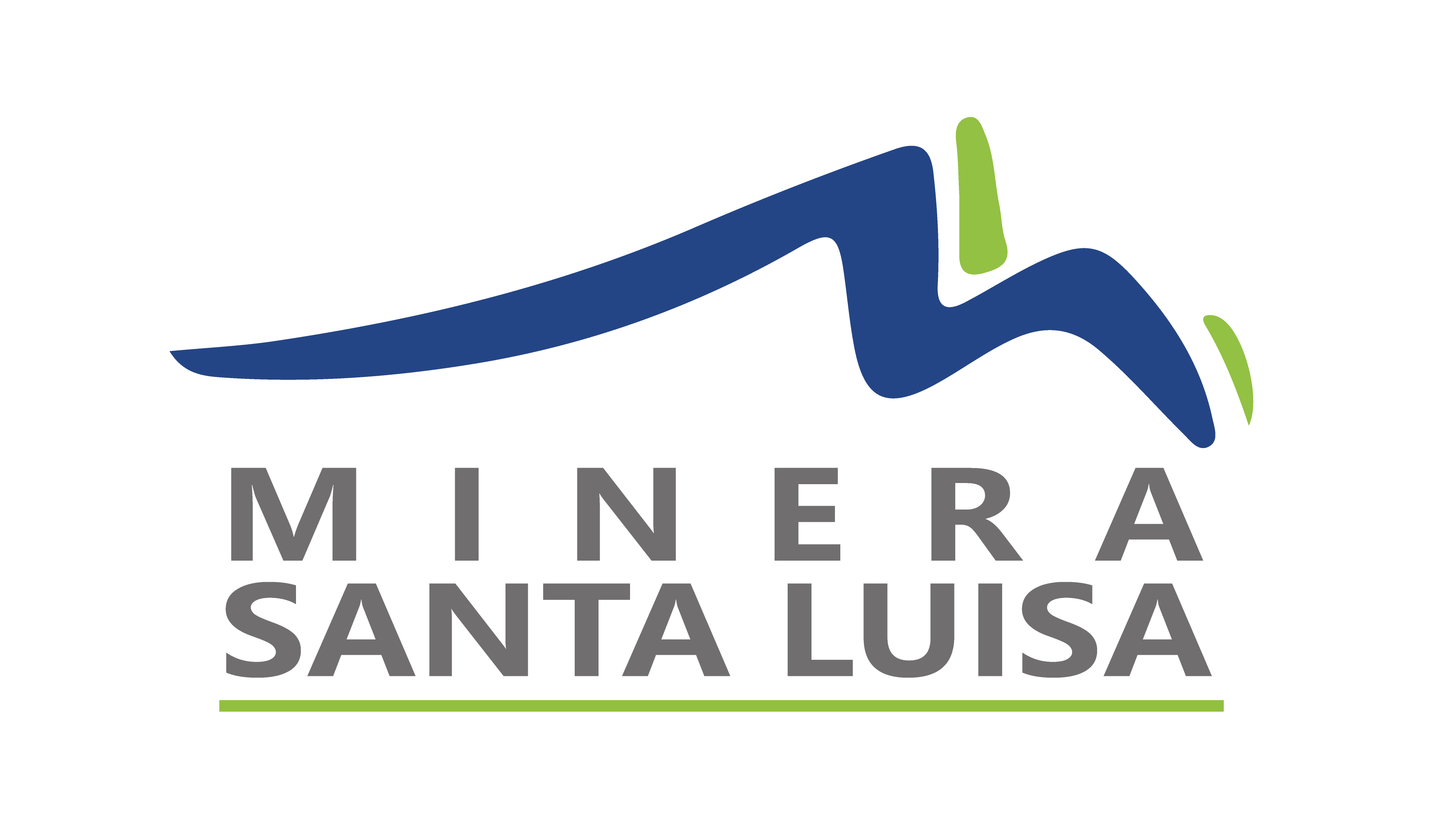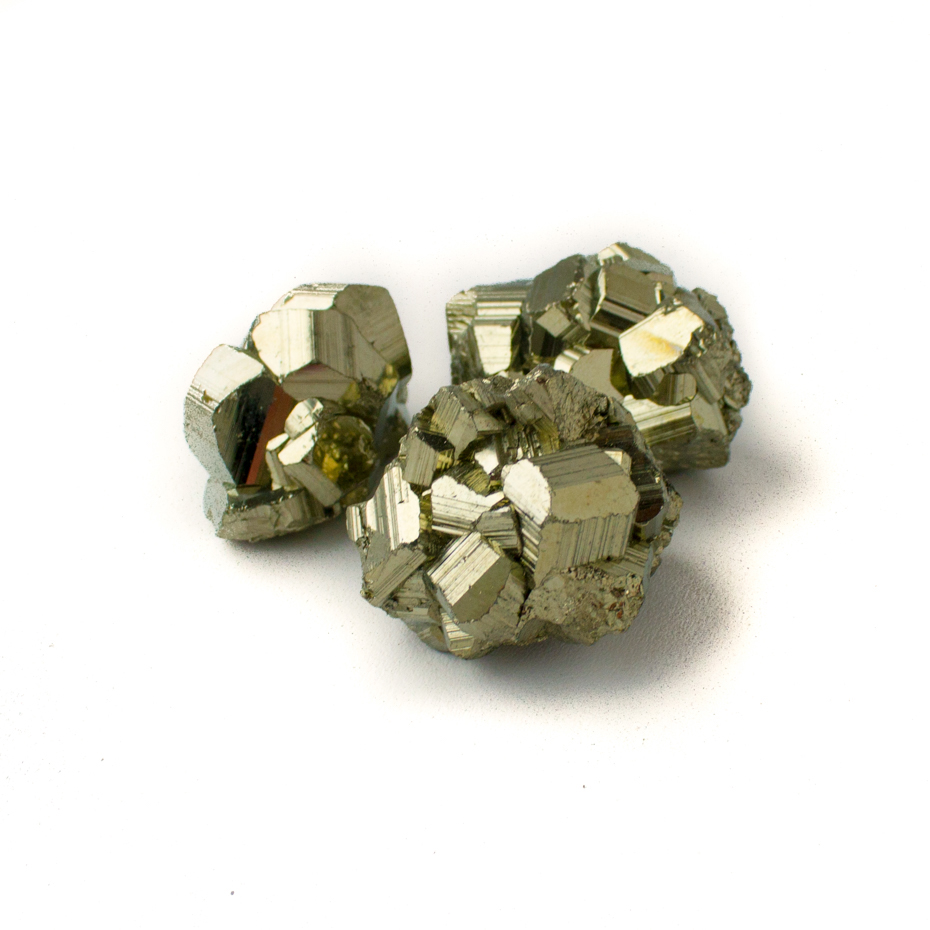 The mineral pyrite, or iron pyrite, is an iron sulfide. Pyrite's metallic luster and pale brass-yellow hue give it a superficial resemblance to gold, hence the well-known nickname of fool's gold. The name pyrite is derived from the Greek πυρίτης (pyritēs), "of fire" or "in fire". In ancient Roman times, this name was applied to several types of stone that would create sparks when struck against steel. "Huanzala has been praised as one of the greatest pyrite localities of all time."
Pyrite is commercialized in a great variety of prices according to quality levels. Those levels are determined by five factors: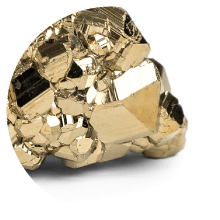 Shine
If the surface shine is opaque the quality is low. If it is very lustrous the quality is high.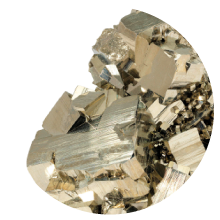 Crystal size
The bigger the cubic crystals, the higher the quality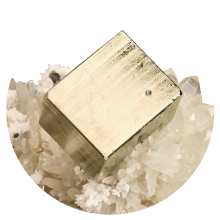 Crystal mixtures
A criteria exclusively used by crystal collectors. Pyrite crystals from Huanzala come many times together with crystals from other minerals, such as: Sphalerite, Quartz, Galena, Chalcopyrite, Calcite, Fluorite, Mangano calcite or Apatite. Combinations of several minerals are priced higher than single mineral crystal clusters.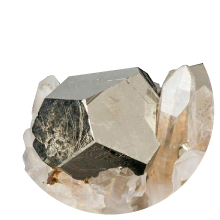 Crystal shape
The regular shape of a pyrite crystal is cubic (with the surface sometimes being striated). Crystals are often intergrown. However there are also octahedral crystals, which sell at higher prices.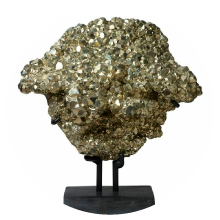 Stone size
A criteria that applies in two ways. For producers of decor objects a bigger stone provides more options to cut and carve different objects than a smaller one. Therefore bigger pieces are sold at higher prices in the wholesale for manufacturing. Crystal specimen collectors on the other hand do pay more for bigger crystal clusters than for smaller ones.
The Huanzala Social Responsibility Initiative

For several decades Pyrite rough and crystal specimens where illegally extracted from the Huanzala mine, being that a well-known but rarely admitted insider secret in the collector's world. Mining accidents, theft and social problems have been the result in Huanzala.
The pyrite rough was then traditionally transformed to decor pieces in informal workshops in Lima, where people worked for lowest salaries in unhealthy and abusive labor conditions without health insurance or labor benefits. Finally crystal specimen and decor pieces where exported without the legally required paperwork.
In order to stop the dangerous and illegal extraction, change this unfair system and benefit the local population, Santa Luisa mine, the district municipality of Huallanca and Gemrock Peru S.A.C. developed the idea for a game changing social responsibility initiative: Santa Luisa mine declared pyrite for the first time ever to be an official product of the mine.
Rough and crystals are sold exclusively to Gemrock Peru S.A.C and will be transformed in a legally established local workshop in Huallanca city providing healthy and well payed jobs to local citizens including all labor benefits required and complying with all environmental obligations required by Peruvian law. The project counts with official backing of the municipality of the district of Huallanca. Even ifthe project is currently stalled because of the logistic restrictions of the COVID pandemic, this proyect will be implemented over the course of the next years.
Gemrock Peru S.A.C. has the exclusive exportation and distribution rights on a global level for rough pyrite, crystal specimen and pyrite decor products. All products will be sold and exported with a legally required certificate of origin. The export and/or sale of Huanzala pyrite fromother peruvian companies must be considered as illegal. Buyers run the risk of loosing their product in case of police confiscation in Peru.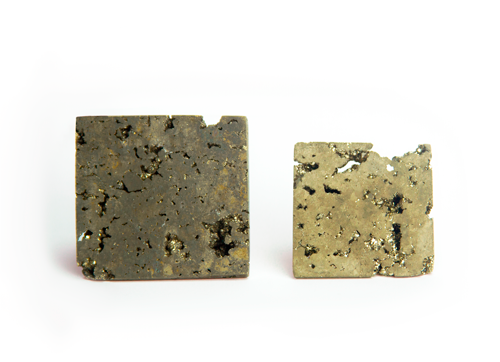 Be cautious: There are Peruvian companies mixing Pyrite from Trujillo province with real Huanzala pyrite and then sell the entire lot as Huanzala pyrite.
Pyrite from Trujillo has a very high content of arsenic and is a toxic material, that may put the health of your clients at risk.
At first glance, objects made from Trujillo pyrite may look the same as Huanzala pyrite. However, you can easily distinguish both: Have a look at unpolished parts. While Huanzala pyrite has a clean golden color, Trujillo pyrite shows black patches.
After just a few months, the shine of the polished Trujillo pyrite will disappear and the material will blacken. This material is not only a danger to health it will also lead to complaints from your clients and damage your companies' image.
We advise you to work only with recommended dealers of serious companies. Gemrock Peru is the only authorized dealer for Huanzala Pyrite and can provide certificates of origin if requested. All other Huanzala Pyrite has been extracted illegally from the mine. We are happy to provide you with information if a dealer offering you Huanzala Pyrite is one of our clients.