Payment Options
(and some remarks on shipping and payment fees)
Upfront Payments:
1.) For orders smaller than 500.- $US we generally do not ask for upfront payments, but do produce the product and ask you for a full payment once the ordered products are packed.
2.) For orders between 500.- and 1000.- $US we may request an upfront payment.
3.) For orders above 1000.- $US we require a minimum 50% upfront payment.
After packaging your products we expect the remaining payment plus shipping costs (in case you want us to handle shipping) in order for us to initiate shipping.
Recommendet payment options: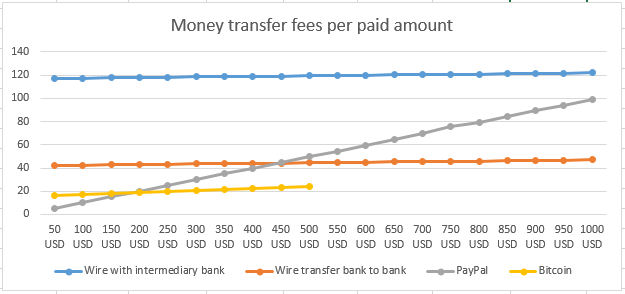 1.) For wire transfers do not use a bank that requires the services of intermediate banks to transfer to Peru. Your bank charges will be just too expensive (see the blue line in graphic above). Instead look for a bank that has direct ties to a Peruvian bank.
2.) For amounts below 500.- USD we recommend using PayPal if you want to save on bank charges. Please read the special rules for PayPal payments further below.
3.) For amounts above 500.- USD we recommend classic bank wires as being the cheaper transfer method (only valid if your bank is NOT using intermediate banks)
4.) We are offering the option of bitcoin and ether payments for amounts smaller than 500,- USD
5.) Wea are not anylonger accepting payments thru the online plattform "WISE" as payment fees have increased drastically.
6.) It is not possible to use Western Union for payments, as this company in Peru only pays out to private persona and not to companies.
Payment fees

(Please  DO read this)

:
We are offering you a range of payment options. Each carries differnet fees and bank charges. If you wanted us to carry such costs, we would be forced to use the most expensive payment option and incorporate it into our price. This would increase our prices and would NOT benefit you.
Therefore:
We are giving you the choice how to pay, but we do NOT carry fees and bank charges. Our prices do not include payment fees. We are expecting our customers to carry payment fees according to the following rules:
Wire Transfers:
1.) We are expecting you to carry the bank charges of your local bank. Do not charge those fees to us. This would result in us asking for balance payments which will cost you additional bank charges and will delay the dispatch of your goods.
2.) If your bank uses intermediate banks for the transfer of money to Peru you MUST carry such fees too. We are NOT going to accept such charges and if you would charge those fees to us, this would result in us asking for balance payments. This would cost you additional bank charges and delay the dispatch of your goods.
3.) Our sales strategy focusses strongly on supporting start-ups and small companies. We do not require minimum order amounts from you. However we expect you to understand that in case of orders below 1000.- USD we can not carry the bank charges of the Peruvian banks, as this would reduce the small profit from such a tiny order just too much.
Therefore:
If you order for up to 500.- USD, we do not require upfront payments, but we will add 22.- USD of peruvian bank charges to your total price.
If your order is between 500.- and 1000.- USD we will add 22.- USD of Peruvian bank charges to your order. We give you the option for a 50% upfront payment and a second payment for the remaining 50%. However in this case we will add 22.- USD of Peruvian bank fees to each of the payments.
If you order is above 1000.- USD and you pay 100 % upfront, we are carrying the Peruvian bank charges.
If your order is above 1000.- USD but you pay in several installments, we will add 22.- USD to every instalment that falls below 1000.- USD
PayPal payments
1.) Contrary to what PayPal advertises, PayPal and  our local Peruvian bank together will charge a total of 8 % of bank charges to us. As there are cheaper payment methods, we will NOT carry such charges in case you choose to pay with PayPal. We will charge Peruvian PayPal and bank charges on top of your order and expect you to carry those charges, no matter how big or small your order is.
2.) Even if we charge you those fees, PayPal will still be a cheaper payment method for you than bank wires for total amounts of less than 500.-  USD. In case your order is bigger than 500.- USD we do recommend the use of bank wires. Note that for orders of above 1000.- USD PayPal fees are getting exorbitantly high.
For more detils on how to reduce your payment fees, please read our blog article: 5 ways how to reduce your bank charges
Shipping:
Shipping is paid for by the customer.
1.) You can contract shipping with your own agent. In this case we organise the pick-up with your shipping agent and our involvement ends with that.
2.) You can organize your shipping with our help. In this case please carefully read the following:
2. A) For air-freight and smaller orders we are working with DHL, a globally recognized professional shipping company which provides you with the security of professional shipment handling. We are having a DHL business account and we are getting a 60% discount on regular prices. So if we quote shipping costs with DHL for you, you will only pay 40% of the regular shipping price. The prices we can offer you so far always have proven to be lower than FEDEX, UPS, Peruvian SERPOST and any other shipping company that we have tried so far.
2.B) Having start-ups and small customers in mind we managed to negotiate with DHL even better rates for packages up to 10 kilos of weight. Those rates reduce your costs in up to 9 USD- per kilo. And this rate has already insurance incorporated.
2.C) We recommend insuring your goods when shipping. If you ship with DHL the insurance cost for products with a total value of up to 1350.- USD is 13.5 USD. For goods with a higher total value the insurance cost is 1% of the value. This is an insurance that covers any type of loss or damage at 100%.
2.D) We are aware of the fact that even so we have very special conditions with DHL, shipping costs nowadays are still very high, especially for small clients with small order. Please read our blog article: 5 ways to tackle expensive shipping costs.
2.E) In case you want to ship your goods using DHL, we will proceed as follows: when you send us your preliminary order list for a quote and before you place your order, we will also get a preliminary quote for shipping, using the commercial value of your order plus the estimated weight (to give you an idea about shipping costs). If you place your order we will produce your product and then get a final shipping quote from DHL once your product was packed and before you pay the total of product value + shipping and bank fees.
We organize the pick-up and provide you with the DHL tracking number.
In case there are any problems with your shipment we will assist to help resolving those problems (eventhough we are not assuming any legal responsability for what happens to your product after it was picked up by the shipping agent).
2.F) In case of bigger shipments by ship and container shipments we can provide a quote from a reliable shipping agent we are working with.
Our staff will support you overseeing the shipping logistics at port as far as we get access to the procedures in order to make sure your shipment gets on the way without any problems.
3.) All of our services in organizing the shipping logistics are free of charge for you.
1.) Wire-transfer:
In order to send us a wire transfer you need to have the information below:
Company information:
Gemrock Peru SAC
General Manager:  Stefan Austermühle
Address: Jirón Arquímedes 163,  15056 Chorrillos, Lima, Peru 
Tax number: RUC 20 60 18 54 504
Phone: 0051 – 994 104 206
Email: gemrockinternational@gmail.com
Web: https://www.gemrockinternational.com/
Bank information:
USD account: 0011-0616-0100011610-01
(You pay in USD – do NOT ask for conversion to peruvian national currency (Soles))
Bank Name: BBVA Continental
Bank Address: Av. República de Panamá 3055, Lima 27, San Isidro,  Peru
SWIFT CODE: BCON PEPL
We are offering you payments with Paypal, if you wish.
However we must warn you, that there are a few disadvantages:
From approximately 500.- USD on, payments with PayPal become more expensive than traditional wire transfers. PayPal is saying that they do not charge the recipient. This is not correct. When receiving payments through PayPal we get charged by PayPal AND by the peruvian bank that receives the money from PayPal. As there are cheaper options to pay we will not carry such fees, but add such fees onto your bill.
PayPal requires the money sender to confirm that he has received the product within 48 hours after making the payment in order to proceed with the transfer of the money to us. However, even if we had the products in stock and could send them out inmediately, international shipping would not take less than 3 to 5 days. Paypal therefore is asking for the impossible. Given the fact that we would not ship before the money is on our bank account, this forces you to confirm that you have received the product the moment you make the payment. Only this way the money will proceed from PayPal to our bank account and only this way we will actually ship.
According to international statistics 70% of all credit card frauds are recall frauds where people recall payments by falsly claiming they did not receive the product or the service. In order to protect us from such cases we must wait till the money can be transfered from the PayPal account to our bank account.
We are starting to experiment with payments in cryptocurrencies, namely Bitcoin and Ether for smaller orders of up to 500.- USD. Especially for those orders bankfees and flat rates in international money transfer are very high. Cryptocurrencies allow us to reduce such costs for you and make smaller orders more viable.
If paying in cryptocurrencies you would not have any bankfees on your side. You only have to buy bitcoin on any international cryptocurrency exchange and then transfer it from your bitcoin wallet directly into our bitcoin wallet. On our side we will incurr however some minor fees:
By changing bitcoin to USD or Soles most exchanges take small fees. Another fee will be payed when transfering the real currency out of the cryptocurrency exchange and finally the peruvian bank will charge a small fee too.
We will charge those fees onto your bill in case you want to pay in cryptocurrency. Even though those fees will be much lower than wire transfers or PayPal fees.
Given the fact that the value of bitcoin can change greatly within a question of minutes, we however do run a risk that the amount of dollars that we receive when transfering your bitcoin to our bank account is much less then what we have billed you for. The solution for this is that we can only accept cryptocurrency payments for small orders. If the bitcoin value should drop we can just wait a few hours, days por weeks for it to rise again without this resulting into a liquidity problem for us. Therefore we currently do only accept bicoin payments for orders up to 500.- USD.
If you wish to pay in cryptocurrencies please contact us for providing you with the required information.
Transfer Wise / Wise
The payment platform has changed their policies and has become now very expensive. We can not any longer accept payments using this platform.
Western Union
Western Union in Peru does NOT support payments to companies. Sadly we can not offer to work with this service.